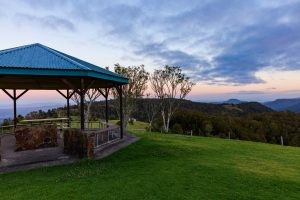 Cooroy, Pomona, Kin-Kin and Cooran are just a few of the most wonderfully charming towns nestled in the beautiful and peaceful Hinterland, which is located just a short drive inland from the popular Sunshine Coast beaches. With rolling hills, lush rainforest, charming towns, and stunning views, it's no wonder that more and more people are choosing to call the Hinterland their home.
Let me share just a few of our favorite reasons why you should consider making the move to this little slice of paradise yourself.
Natural Beauty: The Sunshine Coast Hinterland is home to some of the most beautiful natural scenery in Australia. With national parks, stunning waterfalls, and beautiful forests, it's easy to get lost in the beauty of this region. The Glass House Mountains are a particularly stunning feature, offering a range of hiking trails, rock climbing, and other outdoor activities.
Relaxed Lifestyle: If you're looking to escape the hustle and bustle of the city, the Sunshine Coast Hinterland is the perfect place for you. The pace of life is slower here, and people are friendly and welcoming. There's a strong sense of community in the region, with plenty of local events and activities to get involved in. Each week you'll find a friendly local farmers market where you can leisurely stroll and select fresh produce with lots of local and hand-made treats.
Restaurants and Breweries: The Sunshine Coast Hinterland is a foodie's paradise, with a diverse array of local produce and culinary traditions on offer. From fresh seafood and organic vegetables to artisanal cheeses and award-winning wines, there's something for every palate to enjoy. There are so many fantastic restaurants and local distilleries, wineries, and breweries, that literally cater to all tastes, styles and varieties.
Affordable Housing: Compared to other areas of Australia, the Sunshine Coast Hinterland offers more affordable housing options. Whether you're looking to rent or buy, you're sure to find something that suits your budget. And with so many charming towns and villages to choose from, you're sure to find a home that you'll love.
Great Schools: Families moving to the Sunshine Coast Hinterland will be pleased to know that there are many excellent schools in the region. From primary schools to high schools, there are plenty of options to choose from. And with a strong focus on outdoor education and environmental awareness, children in this region have the opportunity to learn and grow in a unique and inspiring environment.
Plenty of Job Opportunities: While the Sunshine Coast Hinterland may feel like a world away from the city, it's only 30 minutes from Noosa, 40 minutes from Maroochydore and there are still plenty of job opportunities available across the region. The tourism industry is a major employer here, with many opportunities in hospitality, retail, and other related fields. There are also plenty of opportunities for self-employment, with many people choosing to start their own businesses in the region.
The Cooroy, Pomona Hinterland real estate is a wonderful place to call home.
The Sunshine Coast Hinterland region of Queensland is a beautiful and welcoming. Whether you're looking for natural beauty, a relaxed lifestyle, affordable housing, great schools, or work and business opportunities, you're sure to find what you're looking for in this stunning part of the country.
Reach out to us at Ray White Pomona Hinterland today and let us help you to experience all that the beautiful Sunshine Coast Hinterland has to offer!